Mega Moolah
Some online slots are known for their simple gameplay. Others are known for their colourful design. Certain slot games are known for elaborate bonus rounds. Then some games are world-famous just for the unbelievable amount you can win. Mega Moolah is one of those games. It is consistently among the most popular slots online – and it was released back in 2006. It's the worlds biggest and most popular jackpot slot, and most casino players are sure to have played Mega Moolah at some point. The reason for this is the mouth-watering amounts the slot sometimes hands out.
The 5-reel, 3-row jackpot slot from Microgaming holds the Guinness World Record for largest-ever progressive jackpot win: a whopping €17,879,645. These numbers are almost beyond comprehension, and Mega Moolah regularly hands out incredible big wins. Let's have a closer look at what kind of game Mega Moolah is, and which features it offers.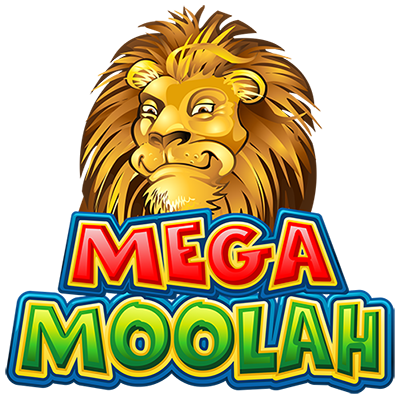 Progressive Jackpot Game
Mega Moolah is a progressive jackpot game. A small part of every single wager on the slot goes into the combined jackpot pool. The jackpot pools consist of small wagers from players across a whole network of online casinos.
It's not just wagers made at Wildz Casino that contributes to the growing jackpot in Mega Moolah. This means that you face a lot of competition for the coveted top prize, but it is also the reason why the Mega Moolah jackpot can grow to these life-changing amounts.
Design
If you were to criticise Mega Moolah for anything, it would probably be the design. It looks very simple and outdated, but that is to be expected for a slot released more than 13 years ago. Players don't flock to this slot for the graphics, but the big jackpot prizes. The game offers a childish (but lucrative) safari, where the player is taken to what is presumably the plains of Africa. The design is colourful and cartoonish, which is also reflected in the game symbols. In addition to classic playing card symbols ranging from 10 to A, the game features a range of wild animals with animated facial expressions.
The slot was designed in 2006, and quite frankly it shows. If nothing else, it underlines how impressive it is that a 13-year-old online slot can still be so wildly popular.
Gameplay
The actual gameplay of this slot is fairly straightforward. Match 3 or more identical symbols along one of the game's 25 paylines, and you are in for a win. Just like the design, this is pretty simple, classic slot gameplay.
The monkey is the game's Scatter symbol, and if you land 3 or more on the same spin you trigger the Free Spins round where all wins are tripled. The Wild Lion is the game's Wild symbol and will substitute for all other symbols apart from the Scatter.
Mega Moolah Free Spins
Another straightforward aspect of Mega Moolah is the Free Spins round. You are awarded 15 free rounds, and all your wins during this session are tripled. It is possible to retrigger the free spins round by landing 3 or more Scatter symbols on the same spin. The multiplier will stay at 3x even if you retrigger the bonus round.
The key to winning big in an online slot more often than not lies within the Free Spins round. While you definitely can secure some nice wins with 15 free spins and a 3x multiplier, the real money in Mega Moolah is won elsewhere.
Mega Moolah Jackpots
Mega Moolah has a total of four different jackpots: Mini, Minor, Major and Mega. The Mini jackpot is predictably the lowest one, while the Mega is the headline-grabbing jackpot that occasionally hands out millions of euros and dollars. The minimum payout of the Mini starts at €10, while the Mega jackpot has a minimum payout of €1 million.
The main reason players seek out Mega Moolah is to try to win the incredible jackpots. So how do you have a chance at winning them, if not in the free spins round? They are found in the randomly triggered bonus round. There is no secret to activating this round, as it can potentially trigger at any given moment. What we do know, however, is that larger bets are more likely to start the bonus round.
That's not to say you have to play the max bet to win the Mega jackpot. Back in 2017, a lucky punter won the almost unbelievable amount €17.8 million from a bet of just €0.25. It's not impossible to activate the bonus round with small wagers – it's just less likely. It is also worth noting that your bet size doesn't have any influence on the jackpot sizes you can win. It just affects your chances to activate the bonus round in the first place.
Mega Moolah Jackpot Bonus
So, you have finally activated the coveted bonus round in Mega Moolah. What happens next? Again, it is all very simplistic, keeping in style with the rest of this slot. You will be taken to a Jackpot Bonus screen where you will see a Wheel of Fortune-style bonus wheel. The wheel will spin, and soon you will find out if you have won a life-changing amount or not. Simple as that.
You will need a fair bit of luck to win the top prize which is the Mega jackpot. The Mini jackpot is the most common prize won in this bonus, but even that jackpot can grow to a decent size over time.
High volatility
Mega Moolah might be the ultimate definition of a slot with high volatility. You need to be prepared to spin for quite some time without winning in your hunt for the big jackpot wins. Long winless streaks are not unusual, but once you get to the Free Spins round or the Jackpot Bonus you could expect to win some serious amounts.
The appeal of Mega Moolah is the incredible jackpot amounts, which are founded by unsuccessful player wagers. For the jackpot to reach several million it needs more than a handful of spins that don't result in much.
Mega Moolah Mobile
As one of the most popular slots of all time, you can, of course, play Mega Moolah on mobile. It is available on all modern devices and can be played across all major operating systems.
The Verdict
Mega Moolah looks very dated design-wise. The slot is from 2006, and it shows. Yet the features are surprisingly modern for such an old game. The Free Spins round is good with its 15 free spins, 3x multiplier and the chance of retriggering the round. One major complaint about the slot is that you risk playing for a very long time without winning much. The RTP of 94% is very low, and this is not a slot for you if you are after small and frequent wins.
But then there is the allure of the jackpot. There's a reason people still play a slot with an RTP of 94% more than 13 years after it was released. It is knowing that you could, theoretically, trigger the bonus round at any given time and win the life-changing Mega Jackpot.
On that note, we would like to remind everyone to gamble responsibly and not stake more than you can afford to lose when chasing the jackpot. It is easy to get carried away with a win potential this big, but gambling is meant to be an entertainment product played for fun.
We give Mega Moolah two thumbs up for the excitement it's the randomly triggered bonus round brings. If you are after more frequent wins or elaborate extra features, however, we suggest looking elsewhere. At Wildz we offer a wide range of Responsible Gaming tools.
Play Mega Moolah at Wildz Casino
You can play Mega Moolah, and a vast selection of online slots, at Wildz Casino. Try the game for free before wagering real money if you wish, and play the slot across all your devices. Log in to your Wildz account today (New player? Register here) to experience why this game is still popular 13 years later.
RTP: 94.50%
Min/Max Bet: 0.25 – 6.25
Volatility: Low (2/10)
Platform: Desktop & Mobile
Developer: Microgaming
Game Type: Slots Jackpot Games